ArtCall® is a custom, web-based registration, jurying and exhibition service for art organizations, museums and galleries.
---
Explore current and upcoming call for entries
CONCEPT: FISSURES
A fissure is simply a crack, an opening, a separation, a split. Other interpretations include vent, opening, breach, or cleft: A breach in the space/time continuum, or a black hole. A long narrow opening in rock. A volcanic fissure might spew lava, steam or smoke.
A biological fissure may be a split or break in tissue. Our relationships with others may develop fissures, miscommunications, a lack of togetherness.
Open to all Art Quilt Artists in the United States and Canada
Learn More:
Deadline: January 8, 2019
A Celebration of Color
This new judged competition and exhibit is open to quilters working in any style—traditional, modern, or art. Artists are invited to play with color and design to create a vibrant work that truly celebrates color!
The winning quilts will be announced during the 2019 International Quilt Festival in Chicago.
Learn More:
http://callforentriescolor.com
Deadline: January 10, 2019
Midwest Guilds
International Quilt Festival/Chicago plans to showcase traditional quilts and their makers in a special exhibit, Traditional Midwest and Canadian Quilts. This exhibit will be one of the highlights at International Quilt Festival, March 28-30, 2019. This exhibit is open to any quilter who lives in the Midwest states of Illinois, Indiana, Kentucky, Minnesota, Missouri, Iowa, Wisconsin, Michigan, Ohio, North and South Dakota and the provinces of Manitoba and Ontario in Canada. The quilt must be made between January 2015 and February 2019.
Learn More:
http://callforentriesmidwestguilds.com
Deadline: January 4, 2019

Throughout history people have been forced to flee from their homes for their own safety and survival due to war, oppression, natural disasters, and atrocious human rights violations. The 1951 Convention Relating to the Status of Refugees was adopted to address the increasingly growing numbers of people needing protection with the understanding that effective solutions would require international co- operation. That Convention document continues to influence the measures used today to attempt to address the global challenges arising from the current refugee crisis impacting countries across the globe.
Artists are encouraged to submit work likely to spark a conversation on some aspect of the theme. Personal stories and ones from the heart are encouraged. The artwork included in Forced to Flee will be selected by the Juror from SAQA's call for entry. The pieces selected by the Juror will not only showcase the artworks, but also encourage the viewer to think deeply and carefully on this timely subject. The opening museum's space is substantial and should accommodate a generous number of artworks. The final number of works accepted will be determined based on the Juror's consideration of work in a range of sizes, including large work, installations and the space available.
Learn More:
http://saqacallforentryforcedtoflee.com
Deadline: October 31, 2018
---
The Natural World
A SAQA Nebraska Regional Showcase
The opening show will be held at Lauritzen Gardens Atrium in Omaha, NE in April of 2019. Other venues will be added when secured.
"The Natural World" will consist of approximately 20 artworks.
The natural world encompasses everything from flora and fauna to rocks and minerals; vast celestial orbits to microscopic organisms and has been the inspiration of artists for centuries.
This showcase of art quilts will encourage members to interpret their own unique vision of, and connection to, this amazing natural world whether abstract, graphic or representational. Issues of the environment concerning conservation, sustainability, preservation and threatened habitats may also be addressed.
Learn More:
http://saqacallforentrynaturalworldnebraska.com
Deadline: November 30, 2018
---
SHIFTING TIDES: CONVERGENCE IN CLOTH
Eligibility: Open to SAQA members whose primary residence is in Alaska, Hawaii, Northern California/Northern Nevada, Oregon, Southern California/Southern Nevada, Washington, or Western Canada.
Exhibit Concept: In an arc along the western shores of North America to the archipelago of Hawaiian Islands, the Pacific Ocean is a source of life and livelihood. Yet threats to the Pacific ecosystem are growing. These perils challenge our perception of the ocean as limitless bounty. Overfishing and global warming threaten not just oceanic life, but the human communities that depend on it. The Great Pacific Garbage Patch draws in waste material from across the ocean, including coastal waters of Canada and the United States. The ocean knows no boundary. The convergence of these ecosystem issues requires communities and governments to also converge in finding solutions.
Learn More:
http://saqacallforentryshiftingtides.com
Deadline: November 30, 2018
ITAB IV
International TECHstyle Art Biennial
In 2010, the San Jose Museum of Quilts & Textiles launched its signature event, the International TECHstyle Art Biennial (ITAB). Returning now for its fourth incarnation, ITAB is a juried exhibition of work by artists merging fiber media with new information and communication technologies in their artistic processes, as a medium of artistic expression, and/or in the content of their work. Leveraging its location in Silicon Valley, ITAB serves as the premiere platform for introducing the work of artists exploring the intersection of fiber and technology to a global community.
Fibers, textiles, and the language of textile patterning have achieved wide attention in contemporary art practice often as a means of evoking an experience that is both historical and contemporary. ITAB seeks to expose and explore the tensions between and among works by artists using fiber media whose work employs diverse artistic disciplines: architecture, fashion, fiber art, installation art, interior design, new media, painting, sculpture, etc. Artwork demonstrating a keen understanding and mastery of the aesthetic, structural/technical, and semiotic possibilities of fiber and of digital, computerized, or networked information and communication technologies are the hallmark of the San Jose Museum of Quilts & Textiles' International TECHstyle Art Biennial.
Learn More:
Deadline: October 22, 2018
Visions Art Museum: Contemporary Quilts + Textiles
October 20, 2018 – January 6, 2019
Interpretations 2019: Rhapsody is the 20th international juried exhibition produced by the Visions Art Museum: Contemporary Quilts + Textiles (VAM). Visions Art Museum is a program of Quilt San Diego, a nonprofit organization established in 1985 to promote contemporary quilts, textiles, and quilt artists. The exhibition will be presented at Visions Art Museum in San Diego, California. The jurors will select work that exemplifies innovation in quilting and surface design techniques as well as excellence in composition and craftsmanship. A full color publication will accompany the exhibition.
Learn More:
http://interpretations2019.com
Deadline: January 31, 2019
2019 – Nashville, TN – February 21-24, 2019
QuiltCon includes a juried quilt show featuring modern quilts by members of the Modern Quilt Guild. The quilts will be juried into the show and may be either shown for exhibit only, or entered into competition and judged. Please read the rules carefully before filling out the online entry form.
Learn More:
Deadline: November 30, 2018
THE EXHIBITION: The 44th Annual Fiber Artists of San Antonio Juried Art Exhibition seeks to showcase a wide range of outstanding art that utilizes fiber materials as the central medium, or a key component of the composition. The exhibition is open to FASA members as well as to fiber artists in Texas and the U.S. The theme calls on fiber artists to explore possibilities beyond the comfort of their current boundaries in their use of fiber, as well as in the style or statement of the piece.
EXHIBIT LOCATION & DATES: The venue for the event will be at
Say Si Art Gallery, located at 1518 S. Alamo St., San Antonio, TX 78204. The Exhibition will begin on Friday, December 7th, 2018 (Opening Reception & Award Announcements – 6 pm) and run through Friday, January 25th, 2019. NOTE: If you are not able to attend the Opening Reception you will be notified by email if you are the recipient of an award. Prize money will be mailed to recipients shortly after the Opening date.
Learn More:
Deadline: October 15, 2018
PAQA-SOUTH is proud to announce its 14th juried exhibition of innovative quilts:
DREAMS
What did you dream last night? Was it a pleasant fantasy, repetitious drudgery or a nightmare? Nighttime dreams might evoke strong feelings or have iconic or archetypal interpretations. A dream can be a day dream, a pipe dream, a hallucination or a delusion. It can also be a vision of the future for yourself, your loved-ones, your community or the world. So dream up a quilt! We invite you to interpret the subject in art quilt form.
Learn More:
Deadline: February 1, 2019
Quilt National '19
Quilt National '19 is the twenty-first in the series of international juried competitions dedicated to promoting the contemporary quilt by serving as a showcase for NEW work (completed after September 1, 2016) that provides the viewer with an appreciation of the variety of techniques and innovative trends in the medium of layered and stitched fabric. The jurors will select works that represent unique approaches to the medium and demonstrate the breadth and diversity of contemporary expressions. Visitors to Quilt National '19 will see the time honored traditions are thriving and are being expressed in new forms as today's artists rise to meet the challenge of new techniques and materials.
Learn More:
Deadline: September 5, 2018
Border Wall Quilt
We're building a wall that brings people together, To talk about building a wall that keeps people apart. Creativity is welcome; social discourse is encouraged!
General Information: The Border Wall Quilt Project is a visual representation of a discussion about the proposed border wall between Mexico and the United States. Let's use our medium and our skills to explore all aspects of this issue and what it would mean to those on both sides. Together, let's consider political, environmental, cultural, and economic factors. Quilters in the United States and Mexico are invited to participate.
To be a part of the Border Wall Quilt Project, create and donate up to 3 small quilted pieces, 8" x 16" ( 20 × 40 cm) expressing your views, concerns, and feelings about the proposed border wall between the US and Mexico and issues related to immigration. Under the direction of fiber artist Lea McComas, these small quilts will be used as "bricks" to build a wall about the wall. The quilt bricks will be used to create 10-foot sections of wall. Sections of wall will be placed back to back so that the installation can be viewed from both sides. In place of mortar, bricks will be suspended to create gaps that allow viewers on each side to see and hear each other. The wall will continue grow as more, and more, bricks are donated.
Learn More:
http://borderwallquiltentry.com
Deadline: December 31, 2018 (extended)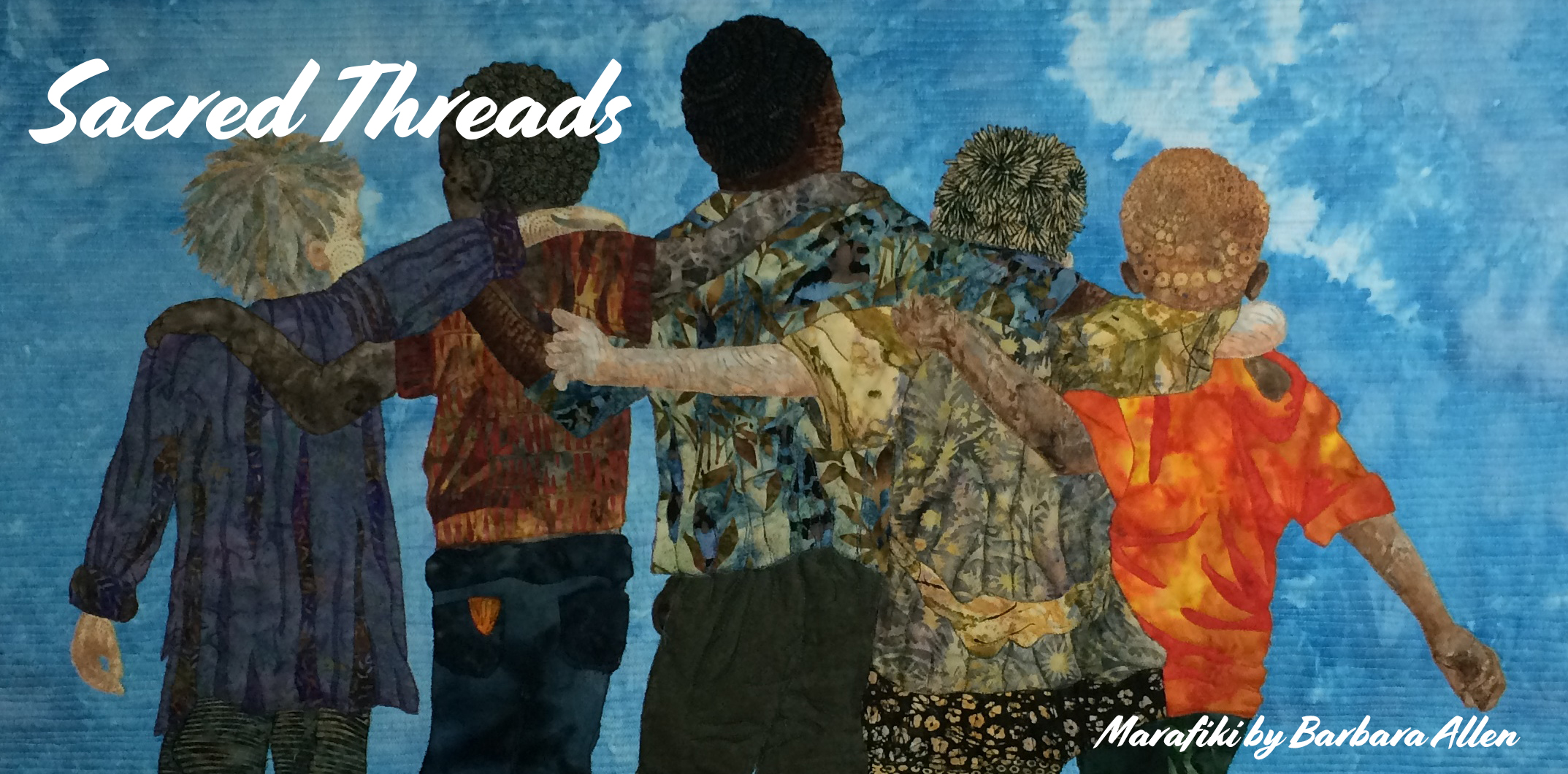 Sacred Threads 2019
Sacred Threads is an exhibition of quilts exploring themes of spirituality, joy, inspiration, peace/brotherhood, grief and healing. This biennial exhibition was established to provide a safe venue for quilters who see their work as a connection to the sacred and/or as an expression of their spiritual journey.
The objective is to create a dignified exhibition of artwork that touches on both spiritual and personal levels all those who view it. We want to share with others the experiences of quilters whose stories may be a source of healing and strength.
Entries to Sacred Thread Exhibitions are juried in by images for purposes of space and suitability of theme only. Works are not judged.
Learn More:
sacredthreadsquilts.com/html/callForEntries.html
Online: October 1, 2018 - January 10, 2019

This exhibit has been postponed.
ANTHEMS – A LGBTQ Quilt Exhibit
On June 12, 2016, the LGBTQ Community was rocked by the massacre at Pulse Nightclub. While there was a huge outpouring of support for the victims of Pulse from within the Quilt Community, there were a marked number of homophobic commentaries as well.
In the 1980s we learned that Silence=Death. So the question arises as to how do we, as a group of LGBTQ Quilters, demonstrate who we are within the Quilting Community? Through our ART. Thus arose Anthems, a Special Exhibit about our lived experiences in quilting.
The Debut of Anthems will be at International Quilt Festival in Chicago in April, 2019. Quilts Inc has accepted the Special Exhibit on condition that they retain final say over the pieces included in that display.
Learn More:
Deadline: October 31, 2018